Highlights
The USD/JPY settled near the 150.00 level.
Traders are worried about the BoJ's intervention.
The USD/JPY is being supported by the rise in the U.S. 10-year Treasury yield.
Last Week Overview
The USD/JPY continued to rise.
The Fed may raise the Federal Funds rate once more this year and may leave it higher than previously expected in 2024, as the U.S. economy is robust.
Meanwhile, the Bank of Japan is keeping its interest rate below zero percent, meaning that the gap between the U.S. FF rate and the BoJ's interest rate remains wide.
The USD/JPY rose last week as traders focused on this gap and the yield on the U.S. 10-year Tresuary note.
However, traders seem to be having a hard time buying the US Dollar against the Japanese Yen as the Japanese Finance Minister signaled to the market several times that he was uncomfortable with the USD/JPY level.
Thursday's U.S. General Domestic Products report met the analysts' estimates, but the USD/JPY fell a little as the Personal Consumption Expenditures reading decreased to 0.7% from the previous reading of 1.7%.
The U.S. Dollar fell against the Japanese Yen Friday afternoon Japan time, with no major catalysis.
There is a possibility that the UAV strike and the U.S. government office shutdown influenced this fall.
The USD/JPY seems to be more sensitive to the economic reports that could be interpreted as bearish.
The USD/JPY may be volatile this week as the U.S. government shutdown may occur as the two parties play a tug-of-war.
USD/JPY Price Action
Daily Chart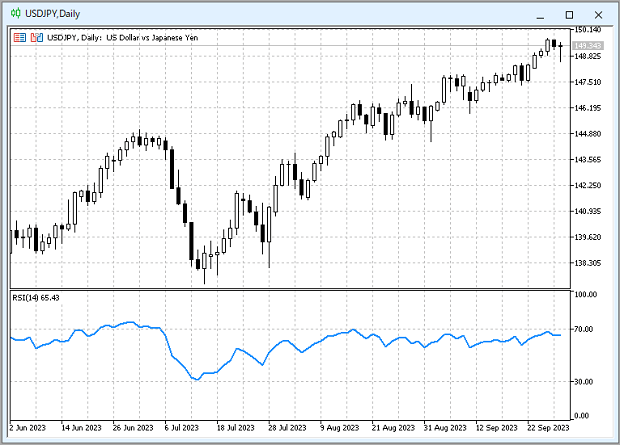 After falling below the 140.00 level in July this year, the USD/JPY has been making higher highs and higher lows, which means the USD/JPY is in an uptrend.
The RSI is still floating in the moderate territory, so there is plenty of room to gain additional upside momentum if the right catalysts appear.
Monthly Chart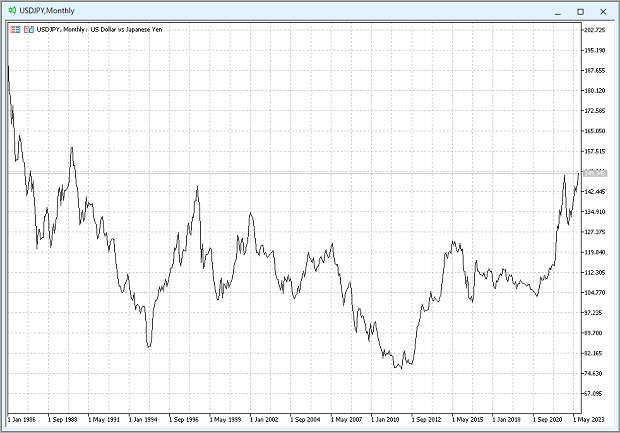 In the long term, there is a possibility that the trend of the Japanese Yen's appreciation has ended and the USD/JPY has already turned bullish.
The USD/JPY is now trading around the 149 level, while in 2010-2011 it was trading around the 75.00 level.
The value of the Japanese Yen has dropped by half.
The USD/JPY has hit the 149 level for the first time in more than 30 years.