Highlights
The USD/JPY rose towards the 148.50 level
However, the USD/JPY failed to settle above the level.
Traders seem to be worried about BoJ's intervention
Friday Overview
Today, traders had a chance to take a look at the major economic reports, which were Japan's CPI reports, the Bank of Japan's decision on its interest rates and the U.S. PMI readings.
The Japan's CPI report came in at 3.2%, compared to the analysts' estimates of 3.0%, and the core CPI reading came in at 4.3%, in line with the economists' estimates, which provided little catalyst for the USD/JPY at around the 147.60 level.
The USD/JPY jumped as the BoJ left its interest rates unchanged and BoJ Governor Ueda showed that the BoJ would keep its policy.
After that, the USD/JPY traded with little movement as the U.S. Manufacturing PMI and the U.S. Service PMI readings are mixed. The U.S. Manufacturing PMI report came in at 48.9 versus analysts' estimates of 48.0, and the U.S. Services PMI reading came in at 50.2, compared to economists' estimates of 50.6.
USD/JPY Price Action: 1 Hour Chart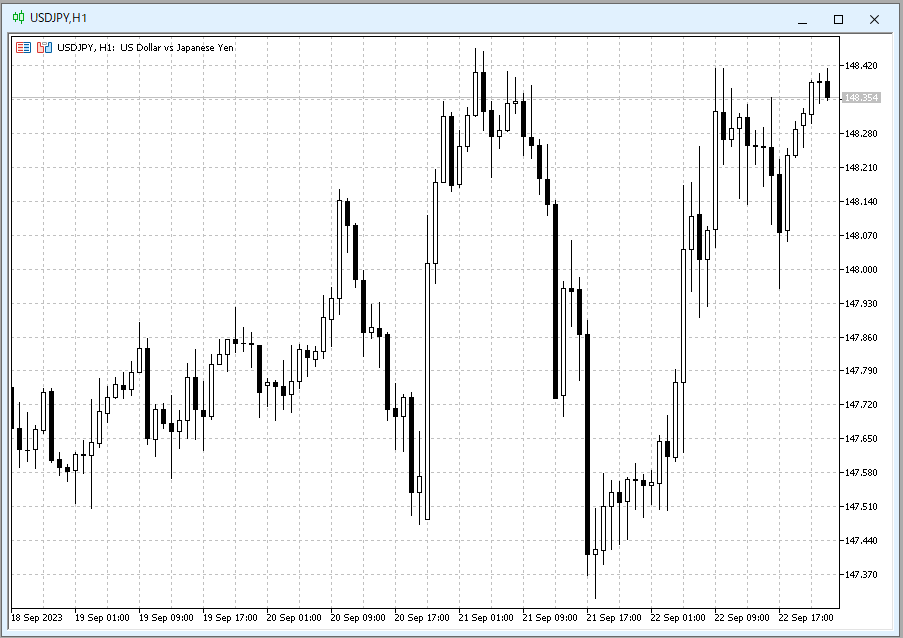 The USD/JPY edged higher towards the 148,50 level after falling below the 147.50 level.
However, the USD/JPY failed to break above the 148.50 level as it couldn't maintain its upside momentum.
The 148.50 level has been tested several times, and it has proven its strength.
There is a possibility that traders are worried about the BoJ's intervention, so they seem to be taking some profits off the table when the USD/JPY approaches the 148.50 level.
In the absence of the BoJ's intervention, the USD/JPY may be able to settle above this level if the right catalyst appears.
The USD/JPY has been sensitive to the dynamics of the U.S. 10-year Treasury yield, so the USD/JPY may be supported if the Treasury yield rises.
The BoJ's Intervention
The BoJ has taken several steps in the past before actually intervening.
1. verbal intervention
2. rate check
3. actual intervention
verbal intervention
The finance minister and top financial diplomat signal to the market that they are uncomfortable with the USD/JPY level. They also sometimes emphasize ties with foreign authorities, signaling the possibility of a joint intervention.
rate check
Rate check means that the BoJ asks Japanese foreign exchange dealers for direct quotes in advance, a step it has taken in the past before actual intervention.
actual intervention
The BoJ buys and sells US dollars and Japanese yen to move the USD/JPY exchange rate in its preferred direction.
When it comes to intervening in the foreign exchange market, the BoJ acts at the behest of the Japanese Ministry of Finance.